A high price to pay for what could, for all the world, be nothing more than just another kit-car. It's not. The backbone of the reason for the quality of this car is the exceptionally stiff (and light) chassis - taken from the Elise itself. Russell Carr (Lotus Design manager) seems to think along the same lines as himself though: "We wanted a car that could embody the Lotus characteristics of innovation, light weight, elegance and fun to drive". This would bring a tear to Colin Chapman's eye, as may the car!

Due to the strength of the chassis, the body panels do not form part of the structure and therefore are ultra-light - and are only included for the driver's comfort and safety. The translucent panel at the height of the driver's legs is an interesting design feature. In fact, the original design showed no panel in this place, complimenting the exposed mechanicals at the rear of the car. The production Elise 340R will be powered by a VHPD version of Rover's 1.8-litre K-series. Funnily enough, VHPD is an acronym for Very High Performance Derivative. Yes, I am serious. Then again, it isn't really an exaggeration - 170bhp at 8000rpm is not to be laughed at, with up to 190bhp in race-tuned form.
Lotus claim that the 340R has been designed as a competition car which can be driven on the road - believe them! The car features positive downforce at the front thanks to the airflow through the radiator and out over the top of the windscreen. At the rear is a diffuser - just like a racecar's. To add to the track feel Lotus will include a set of glue-like, hand-cut Yokohama tyres, mounted on light alloy wheels. I would expect the handling to be pin-sharp and the grip unparalleled on the road - perhaps the (all wheel drive) Mitsubishi Lancer Evolution VI comes close.
That car can seat five adults in comfort though, and (if you have the grand parents over) can be driven with modest decorum. The 340R is rather different. There are no doors, and no roof - no, not even a temporary one. The seats (only 2 of course) are lightweight composite items, thinly coated with Alcantara, and fitted with proper 4-point racing harness. The driver's seat is even mounted further forward than the passenger's, and set nearer to the centreline of the car. My kind of transport! Donations to be sent anonymously to .......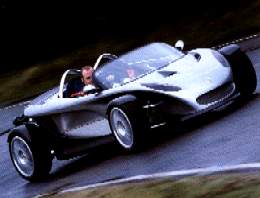 All photographs provided by Lotus Cars