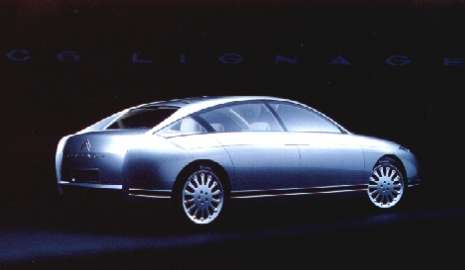 Citroen presented several new and interesting production cars at Geneva - the Picasso, Berlingo Dynavolt and Xsara HDi, for instance. Here, however, we are going to tell you about their styling concept car - the C6 Lignage. The reason, after all for us reporting from the motor shows is to see the cars of the future and several that you will probably never view outside the company's museum.

The C6 name is nabbed from one of Citroen's greatest models - the C6 from 1928 to 1933. The new C6 "makes intelligent innovations in architecture and technology, while promoting well-being and safety" according to Citroen. The Car Enthusiast translation of that is "modern". The Lignage has a pleasing, sleek profile, but it does not further the world of car design. At least not for concepts. If it were actually produced then that would be a different matter. Citroen see this as a range-topping vehicle, sitting a little above the now dated XM.

The concept has the usual concept car stuff - shiny paint, jewel-like lights, large alloy wheels, futuristic interior. Add to that this year's toy - rear seat Internet browsing, TV, video, computer. These are only gimmicks - all available on current production cars. Interestingly, the C6 strives for better fuel economy by increasing aerodynamic efficiency (a buzz-phrase normally associated with F1 teams).

Replacing external mirrors with cameras (also lighter and cheaper), streamlining the wipers and electronically controlling the radiator grille fins does this. This has all been done before, however, as has the whole C6 concept. The only rationale for the Lignage is that Citroen need to test out their ideas on the next luxury Citroen. If this were a production car launch we would all "ooh" and "aah", but among the other glitzy concepts in Geneva the Lignage pales.