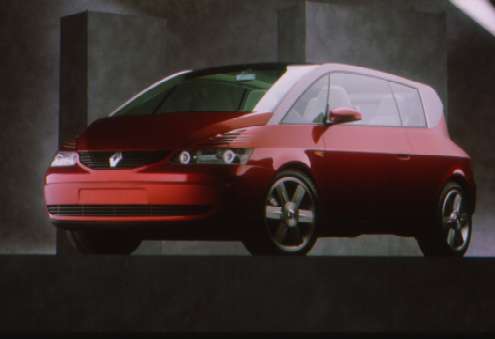 Amidst rumours that Patrick Le Quement (Renault design boss) wishes to open a new design centre in London, Renault launched the new range-topping Clio Renault Sport. This little hot-hatch bridges the gap between the Clio 16v and the yet-to-be-released mid-engined Clio V6. Those of you mourning the death of the Williams model need cry no longer - the new Clio Sport is more than a little special. Try 172bhp (at 6250rpm) for starters. The much-loved Clio Williams had 150bhp. The 2.0 16v F4R engine is a development of the Espace's unit, but musters a hefty 147lbft of torque (at 5400rpm). To contain this extra shove Renault have increased front and rear tracks, lowered the ride height and uprated the brakes. Aesthetically, the Sport features body coloured bumpers with integrated front fog lights, projector lens headlights (as in the 16v), and a set of very tasty 6-spoke alloy wheels.

Sharing the 6-spoke wheel design, and the Renault badge (but not much else!) is the Avantime concept shown above. The Avantime is a "coupespace". So Renault say. They are responsible for the popularisation of the multi-purpose vehicle (MPV), with the Espace, Twingo and Megane Scenic already to their credit. Le Quement promised something different and here it is. So what is it? A coupe with space of course.... You must admit that it looks individual, if a little too square from some angles. Renault claim that it "fuses the thrill and passion of a coupe with the unique quality of life on board a monospace". Interesting - let's look a bit deeper.

Renault's past innovations have not so much filled a void in the market place as created a new segment. This is particularly true of the original Espace and the modern-day Scenic. Other manufacturers soon realised that Renault knew what they were doing and have since jumped on the MPV band wagon. Things may be different this time! Renault's target customers are people who own a traditional GT coupe, or life-style off-roader or estate, or even current MPV owners who may be a little bored with their Espace/ Galaxy/ Space Wagon/ Sharan/ Serena. Even though the Avantime is powered by a silky 250bhp V6 engine (mated to a 6-speed manual gearbox), I doubt that many traditional coupe owners will be tempted. If you drove an XK8, would you prefer this? Still, it is practical. That is not quite the point with a coupe though, is it? I could see a small market for this type of car blossoming however. The people who drive life-style 4x4s and estates now are the kind of people that would have driven hot-hatches in the '80s. There is an outside chance that the next step is the coupespace. If so, hats off to Renault once again.

As a concept car, the Avantime is successful. It causes debate and is nothing if not striking to look at. There is a hint of the current Espace in its one-box shape, but that does not detract from the sharp styling - derived from Renault's previous show car, the Vel Satis.