ST160 Specs.

1.7-litre 16v engine
160bhp @ 6000rpm
5-speed manual + limited slip diff.
Revised chassis settings
Alcantara trim & Sparco seats
Alcon 4-pot calipers (front)
Vented discs (front) / Discs (rear)
If you would like to advertise here or elsewhere on the site email us :

[email protected]


or ring Shane at 07771 620 683 (UK).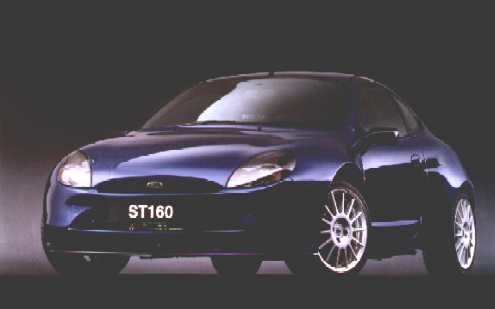 Photograph provided by Ford UK

Basking in the glow of the success of the Focus (both road and rally) and the Puma coupe, Ford have unleashed a road-going version of the Puma rally car. As you should know, this competes in the "kit-car" class, not with the full WRC spec (i.e. Colin McRae's Focus). The ST160 (the tag given to the concept at Geneva) is more than just a pretty face - although, it has that too! The striking looks of the regular Puma have been beefed up to look just like the race car. This involves extending the front and rear wheel arches and increasing overall width by nearly 100mm - only 30mm narrower than the rally version. Filling those curvaceous arches are a set of gorgeous 17in 14-spoke alloy wheels, wrapped in 7.5in wide low-profile tyres.

Powering the new body is an uprated 1.7-litre Zetec SE engine producing 160bhp (hence the name) at the front wheels. This unit began life with 125bhp in the regular Puma. To extract more power Ford have added new camshafts, a reworked inlet manifold and a sportier exhaust system. As this car weighs only 1040kg the performance should be invigorating. Holding it on the road are the race-derived chassis settings. Complimenting those huge tyres are new springs and dampers, uprated Alcon brakes and a limited slip differential. This is obviously a serious enthusiast's car. As if that needs to be emphasised Ford have revised the already funky interior (Ford call it "New Edge") - adding aluminium pedals, Sparco seats and Alcantara trim. It is not quite clear whether Ford will produce this car. Having sold 47,000 Pumas since its 1997 launch one would assume that there will be sufficient demand.
S.O' (Email)