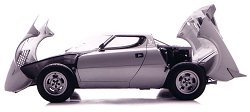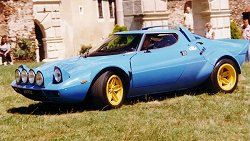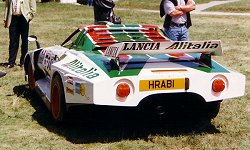 Profiling the Classics of Today and Tomorrow - No. 0003 - Lancia Stratos
Story by Andrew Frampton, pictures by Andrew Cliffe - November 2001.
Lancia's famous Stratos sports model was first exhibited at the 1970 Turin Motor Show, as a concept car on the stand of legendary Italian designers Bertone.

They were shortly approached by the head of the Lancia rally team who commissioned them to take the design into production for their latest assault on the World Rally Championship. Bertone agreed, but the World Rally rules necessitated that 500 road cars be produced to avoid the car being classed as a prototype, therefore making it ineligible.

Lancia used 42 for its rally program, which left the remainder to go on public sale. The Stratos turned out to be a superb rally car, winning the World Championship for its manufacturer in 1974, 1975 and 1976. However, it was less successful as a road car, and it took seven years to sell all the cars produced. Although Bertone's design may have been staggering to look at, inside it was cramped, noisy and had poor visibility and ventilation.

Despite its flaws, the Stratos was certainly fast - equipped with a 2.4-litre engine, it produced 190bhp in road-going form, and thanks to a largely fibreglass body, it weighed in at only just over 900kg. Its 2400cc V6 engine was lifted out of the Ferrari Dino and propelled the Stratos to 143mph, with 60mph coming up in 6.0 seconds and 100mph in 16.7 seconds. A turbo-charged version produced in 1978 developed 335bhp!

Both due to its rallying pedigree, and the limited number produced the Lancia Stratos is now a very sought after machine and worthy of its place in motoring history.
---
Relevant links:
Official Lancia site
---