Race Review &nbsp &nbsp &nbsp &nbsp &nbsp &nbsp &nbsp &nbsp &nbsp Team Details &nbsp &nbsp &nbsp &nbsp &nbsp &nbsp &nbsp &nbsp &nbsp Championship
Qualifying
Mika Hakkinen took the 12th pole position of his career at Interlagos. Saturday's qualifying hour differed from the sort of qualifying sessions we're used to. Normally the track is deserted for the first thirty minutes, with a flurry of activity in the closing minutes. But in Brazil it was the opening moments that saw all the action - indeed with two minutes of the session remaining, only the two McLaren drivers had any "unused" laps remaining.

Local boy Pedro Diniz was the first on to the track, whilst behind him Heinz-Harald Frentzen (in his eagerness to get onto the track) overtook another car in the pit lane! Heinz-Harald was the first to post a decent time (1:18.722). However, within seconds Coulthard had gone a full second quicker - and so it began. The reason for this frenzy of activity was the gathering of rain clouds in the distance. It was important that everyone recorded a decent time before the heavens opened. As Coulthard congratulated himself on his impressive lap, Mika Hakkinen went 7/10ths of a second faster, and in the process beat last year's qualifying times. So much for the reduced speeds that the new 4-groove Bridgestones had promised. As Michael Schumacher went 3rd with a time 1.3s up on Hakkinen's, Coulthard had already used 5 of his allotted 12 laps. Then suddenly after 7 minutes, the weather forecasters were proved right as the first spots of rain began to fall onto the track. Right on cue various drivers started having "little moments".

The crowd erupted as Rubens Barrichello went 3rd with a time of 1:18.023. Damon Hill went seventh before driving one of the most scrappy and untidy qualifying laps that I have ever seen him do. At this point I must bring your attention to the ridiculous white flag that was being waved at the entrance to the pit lane. For the past few days, drivers have been complaining about the newly modified pit entrance and exit. The waved white flag is obviously intended to warn drivers as they begin the long haul from Arquibancadas that a car has just entered the pits and will have dramatically reduced speed. This set-up is an accident waiting to happen, and a waved flag will not prevent it. Following Hill's messy lap, it was Irvine's turn to slip and slide his way round the track. Fisichella meanwhile had just gone 4th, great stuff from the Benetton driver. The frustration was clearly getting to the Ferrari number one; Schumacher improved his time but remained 7th! On 22 minutes, Barrichello stunned the pit-lane as he went 3rd, just 6/10ths slower than Hakkinen. As the crowd went wild, nobody seemed to notice that Panis had just gone 8th. I did.

Hakkinen went out again. At the first two sectors he was slower than his previous best. However, a storming 3rd sector saw him clock 1:16.914. As the session approached half time, Marc Gene went off in the Minardi and resigned himself to "sitting out" the remainder of the session. Gene's "moment" was to cost Ralf Schumacher dearly. The German was on a stormer of a lap - until he came across the waved yellows that marked the scene of the Minardi's demise. Following Ricardo Zonta's dreadful accident Craig Pollock must have wondered why he'd ever started a Formula One team. As Jacques Villeneuve improved to 16th position, Pollock must have been hoping that Ford or Toyota would make him an offer. Another guy having a rough time of it was Alessandro Zanardi, the Italian still in 17th position and wondering if he's ever going to get to do a victory donut again. Just as poor Alex thought it couldn't get any worse, his Supertec blew.

Michael Schumacher meanwhile was on a banzai lap. At the first sector he was +0.246s at the second +0.309s at the line it was +0.664s - 3rd on the grid! Heinz-Harald also looked set for a dramatic improvement until he got ludicrously out of shape. Meanwhile Damon was languishing and following another poor lap - Eddie Jordan did not look happy. Then suddenly Damon's 5th and it's smiles all round. Rubens Barrichello however had not given up. At sector 2 he was +0.158s, by the end of the lap he was +0.391s - that's 3rd on the grid and less than half a second slower than pole-man Hakkinen. With ten minutes remaining it was Hakkinen, Coulthard, Barrichello, Michael Schumacher, Irvine, Hill, Frentzen, Fisichella, Herbert and Ralf Schumacher. Villeneuve was still 16th with Zanardi 17th. As we came to the closing stages of the session, Wurz went 9th. However, all eyes were on Hakkinen. At sector 1 he was -0.141s, at sector 2 he was -0.270s at the line he was -0.346s a stunning lap: 1:16.568, virtually half a second faster than last year's pole time (so much for the new tyres).

With the session almost done, virtually everyone had used up their allotted number of laps - except the McLarens. Hakkinen tried to better his previous time, but it was impossible. Coulthard also tried (and came close) but a couple of "lock ups" put paid to his attempts. With two minutes to go, there was an eerie silence in the pit-lane. Although there was plenty of noise coming from the grandstands where Barrichello's fans (the whole Brazilian crowd) were having a mini carnival. Villeneuve was sentenced to start from the back of the grid because a fuel test on his car did not match a previous sample, De La Rosa was also given the same punishment as he recorded his fastest times during Marc Gene's accident and the yellow flag was being waved.
---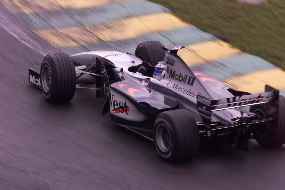 Photograph copyright Mclaren International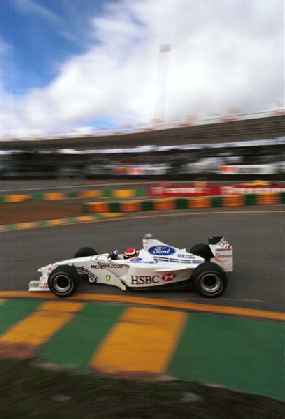 Photograph provided by ICN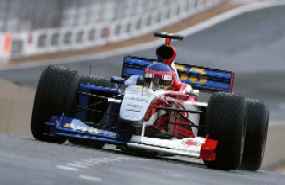 Photograph provided by ICN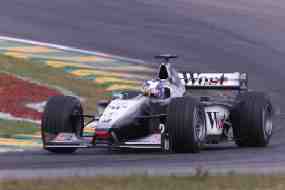 Photograph copyright Mclaren International


Grid Positions
| | | |
| --- | --- | --- |
| P | Driver | Time |
| 1 | Mika Hakkinen | 1:16.568 |
| 2 | David Coulthard | 1:16.715 |
| 3 | Rubens Barrichello | 1:17.305 |
| 4 | Michael Schumacher | 1:17.578 |
| 5 | Giancarlo Fisichella | 1:17.810 |
| 6 | Eddie Irvine | 1:17.843 |
| 7 | Damon Hill | 1:17.884 |
| 8 | Heinz-Harald Frentzen | 1:17.902 |
| 9 | Alexander Wurz | 1:18.334 |
| 10 | Johnny Herbert | 1:18.374 |
| 11 | Ralf Schumacher | 1:18.506 |
| 12 | Olivier Panis | 1:18.636 |
| 13 | Jarno Trulli | 1:18.684 |
| 14 | Jean Alesi | 1:18.716 |
| 15 | Pedro Diniz | 1:19.194 |
| 16 | Alessandro Zanardi | 1:19.452 |
| 17 | Sarrazin | 1:20.016 |
| 18 | Pedro De La Rosa | 1:20.075 |
| 19 | Toranosuke Takagi | 1:20.096 |
| 20 | Marc Gene | 1:20.710 |
| 21 | Jacques Villeneuve | Rule infringement |


The Race &nbsp &nbsp &nbsp &nbsp &nbsp &nbsp &nbsp &nbsp &nbsp Qualifying
Mika Hakkinen won the incident-filled Brazilian Grand Prix to record the 10th victory of his career. Michael Schumacher finished in second place, but once again his Ferrari could not mach the pace of the all-conquering McLaren-Mercedes. McLaren headed into the race confident that they had the pace to win, but were concerned about their reliability. As it turned out, they were right on both accounts. Mika Hakkinen's day got off to a good start as he pulled out an immediate lead from Rubens Barrichello's impressive Stewart-Ford and Michael Schumacher's Ferrari.

Team-mate David Coulthard had another weekend which is best consigned to the bin. The Scot had qualified his McLaren in second position, but as the lights went out his silver arrow proved blunt as he was left stranded on the grid. The field streamed past the stricken McLaren before the car was recovered and rejoined the race three laps adrift. The Brazilian Grand Prix heaps yet more pressure on the Scot, who has failed to match Mika Hakkinen both in terms of speed and in terms of consistency. Mika Hakkinen led the race with apparent ease, until he suddenly lost his gears and dropped to third position. The McLaren was quickly back up to speed, but at the time it seemed only a matter of time until Hakkinen would grind to a halt.

With Hakkinen slowing, Rubens Barrichello leapt into the lead of the race, delighting the tens of thousands of fanatical Brazilian fans. It was a false celebration for the Stewart team though, as Barrichello was on a two stop strategy, whilst second placed Michael Schumacher and third placed Mika Hakkinen were on a one-stop strategy. One cannot have anything but praise for Barrichello and the Stewart team. Both have suffered from under-performing Ford V10 engines over the last two years and it seems finally as if the driver and team can show what they are capable of - winning. With Barrichello's pit stop, the battle for the lead was effectively between Michael Schumacher and Mika Hakkinen. Both drivers drove a faultless race, with Schumacher driving right on the limit just to hold off Hakkinen. The race lead change happened in the pits (much to the delight of one head of the FIA no doubt) with Schumacher pitting first and Hakkinen gaining enough time on a clear circuit to gain the lead of the race. Hakkinen led the race to the flag to record a well-earned victory for the McLaren, while Michael Schumacher chased in vain to finish just five seconds behind the flying Finn.

Over at Jordan it was another weekend of mixed emotions. Once again Damon Hill was taken out of the race thanks to poor driving from his rivals. This time it was the turn of Alexander Wurz to clash with the former champion, leaving Hill to return slowly to the pits to watch the rapid progress of his rejuvenated team-mate Heinz-Harald Frentzen. The German drove a great race to stay out of trouble and record his second successive podium position for his new employer. Undoubtedly his third position was inherited after Eddie Irvine's Ferrari began to over heat and the Melbourne winner was forced to make a late-race pit stop to clear the radiators of his Ferrari, but it was still a great performance from the under-rated Frentzen.

Ralf Schumacher once again led the way in the Williams team with a steady and once unthinkable mature drive to fourth position. The younger Schumacher really has shown up his illustrious new team-mate Alessandro Zanardi, who after a poor qualifying performance was running 12th and last until his retirement. Quite why Zanardi is so far from the pace is a mystery, as anyone who ever saw him race in the Champ car series will tell you - he is fast. Not in the Williams Supertec though. Undoubtedly the Supertec V10 motor is under-powered and somewhat prone to blowing itself into small expensive pieces, but still, Zanardi is a lot better than he is demonstrating at the moment.

The second race of the year has seen Prost Grand Prix equal their points tally of the whole of the 1998 season. Olivier Panis drove a storming race to claim the final points-paying position in his Peugeot powered car, despite suffering from a stop-go penalty for being too eager off the start line. For the French team it is a small reward for their considerable efforts over the last six months. Jarno Trulli was not so fortunate and retired early on in the race. Alexander Wurz may have finished in 7th position, but the fact remains that he is being completely blown away by his Benetton team-mate Giancarlo Fisichella. This may seem an unfair statement until you realise that the Austrian has not scored a podium position since Silverstone 1997. Once again Wurz seemed to be having his own personal race involving large segments of the infield, and whilst on the black stuff - was simply too slow. Giancarlo Fisichella meanwhile enjoyed a more successful outing until his retirement lost him what would become an eventual fourth position.

For the Arrows team, it was back to reality with a bump. In Melbourne both Toranosuke Takagi and Pedro de la Rosa ran in the top six, but in Brazil the team could manage no better than 8th for Takagi (3 laps adrift) and a retirement for de la Rosa. British American Racing has to face up to the hard realities of racing in Formula One. Villeneuve, starting from the back of the grid thanks to a fuel infringement worked his way into the top ten before retiring, while Ricardo Zonta watched the race on television after a large shunt on Saturday. Villeneuve was hardly surprised when his car ground to a halt. Sauber meanwhile staged something of a comeback in the hands of Jean Alesi. The Frenchman had a troubled qualifying session, but was soon on the pace in the race. Running a two-stop strategy Alesi was up to fifth at the first pit stops, setting the fastest laps of the race on his way. It was not to last as the Sauber gearbox cried enough, ending what could have been a great drive to a podium position.

Pedro Diniz spun out of the race mid-distance ending what could have been a points-paying position. Over at Minardi, it has been a troubled few weeks. Following the testing accident that befell Luca Badoer, the team drafted in the undoubtedly talented Stephane Sarrazin from the Prost team. The French test driver adapted well out-qualifying Marc Gene and giving the Minardi team something to think about in terms of pace. It all went wrong on race day however, as Sarrazin lost control of his Minardi at full speed - slamming into the barriers and finally coming to rest thankfully in one piece. The accident was huge, but the Minardi chassis stood up to the impact well. That is more than can be said for the new wheel tethers, which for the second day in a row proved to be next to useless, as the wheel left the car at high speed and bounced across the circuit. Badoer will be back in action at Imola in three weeks time, but Sarrazin will have impressed more than a few people in the pitlane, despite his huge shunt.

And so the race came to a close. A maximum ten points for McLaren and Mika Hakkinen. Can Ferrari make that much needed step forward to be competitive at Imola? I doubt it, but Schumacher will be trying as hard as ever and given McLaren's 25 percent finishing rate, he stands a good chance of winning on home soil. Rubens Barrichello looks like the only other driver who can take the challenge to Hakkinen and Schumacher in his Stewart. But I am forgetting Coulthard - the winner of the San Marino Grand Prix twelve months ago - can he get his act together or is it too late for the Scot in the McLaren team? The race takes place on May 2nd. Read it here.

Cian S Hanley (Email)
Next GP in San Marino - 2nd May
Photograph provided by ICN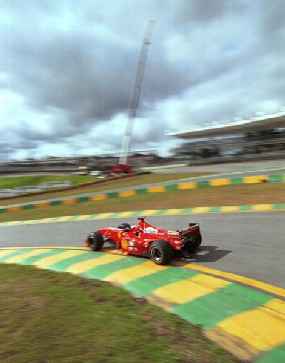 Photograph provided by ICN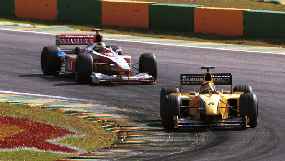 Photograph provided by ICN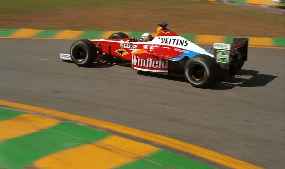 Photograph provided by ICN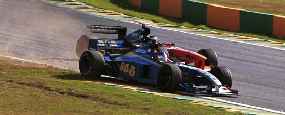 Photograph provided by ICN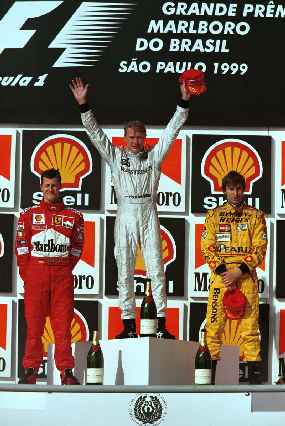 Photograph provided by ICN


Race Results
| | |
| --- | --- |
| P | Driver |
| 1 | Mika Hakkinen - McLaren |
| 2 | Michael Schumacher |
| 3 | Heinz-Harald Frentzen - Jordan Mugen-Honda |
| 4 | Ralf Schumacher - Williams Supertec |
| 5 | Eddie Irvine - Ferrari |
| 6 | Olivier Panis - Prost |
| 7 | Alexander Wurz - Benetton Playlife |
| 8 | Toranosuke Takagi - Arrows TWR |
| 9 | Marc Gene - Minardi |