Rickard Rydell won his maiden championship drivers crown last season. His excellent early season form helped him to pull through the very tough challenge which was put to him at the end of last year. He will certainly be feeling the pressure in this years campaign. No driver has ever retained the title in the modern super-touring era. Rydell faces some stiff competition. Nissan produced the most dominant and reliable car in 1998 and got their title for all the hard work. The Primera's dominance of pre-season testing, as we spoke about recently suggests that it will again be the car to beat this season. Scot David Leslie is in his third year with the champion manufacturer. Nissan won twice at Donington last year and that would be a great way to open our account in 1999.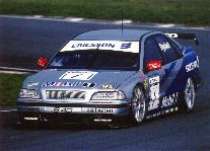 Photograph provided by Volvo
Leslie will have a new partner for this season. Laurent Aiello, who is one of a major influx of new driving talent hoping to claim Rydell's crown. Aiello must first learn the British circuits, but the former German and French touring car champion (he also won Le Mans last year), is sure to be a potent force in this year's campaign.

Honda enters the new season with the all-new Accord and early indications are extremely promising. Young gun James Thompson topped the timesheets on both days of the last test at Brands Hatch and, having finished a best ever third in 1998, he will be looking to start a consistent challenge for the title. Honda are the only team with a brand new car but Thompson insists that the Accord has been very quick straight "out of the box", but the reliability is always a question for a new car.