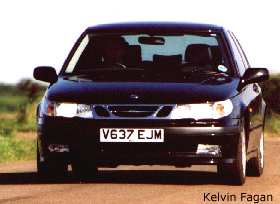 Off the beaten track, the Aero dips and dives over very badly rutted roads. Any car would. However, the Saab displays disciplined body control in most instances. Severe ridges are heard, but not felt. This is even more impressive when you remember that the suspension has been lowered by 10mm. Other changes to the chassis in Aero guise include beefier anti-roll bars (front and rear), stiffer springs and harder dampers. Now, this all sounds fantastic - in the dry. It certainly does it's job on dry roads, but I would not like to be in a hurry on anything but the motorway in the Aero when it is raining. The problem stems from all that torque (plus the unmentioned 230bhp peak power) being fed to the front wheels.
Think about it logically. The front wheels already have to cope with steering the car through bends. Now, give them 230bhp and 258lb.ft and what happens? Torque steer. The stiffer suspension only emphasises this problem as the car corners flat at all times. However, accelerating out of (or through) second gear corners has the effect of a spinning inside wheel. There is, of course standard traction control, with a big 'TCS' button to the left of the steering wheel. This does a fine job of splitting the torque between the wheels, but even the electronics can not defy gravity.
Bear in mind that this is not a major complaint, more an annoyance. In most cornering situations, the 9-5 Aero will be more than competent. After all, if you only drive on B roads, would you really buy an executive-class car? However, for most, the Saab 9-5 Aero will suffice. The rest of us will opt for the Elise.
Technical specifications can be obtained here.