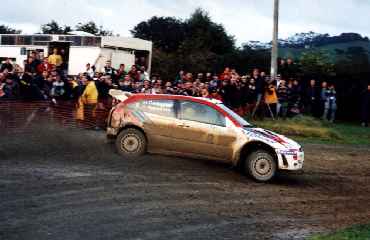 The northern Maungaroto stages had nearly been washed away last year, but fortunately the weather would hold off this year, and the rain stayed away until the final service. There were showers, but not the camera destroying rain of last year! Overnight leader Makinen was happy with his first day, while second place Auriol would fight to get the time back early on day 2. but this plan backfired on him in a major way when the Corolla ran wide on the second stage of the day and ripped off a rear wheel. The crew fought to the end of the stage, and into service, but the Frenchman was not sure that the car would handle the same. He need not have worried, the car was fine, once the TTE techs had attacked it en masse at every service for the rest of the day! But the damage was done, and the
crew were sixth at the end of day 2. This put The Legend, Kankkunen into second, and once Juha gets a sniff of a podium, he doesn't tend to let it go that easily!
The newly installed sequential gearshift on the steering wheel was working well on NZ's twisting, flowing roads, and the Finn was confident of holding his place for the rest of the event. The two leading Finns were pleased as punch at the end of the day when the speed shown by their young protégé Toni Gardemeister and Paavo Lukander had them firmly in third by days end. Not even a string of fast times by Sainz could bridge the gap, and the Spaniards had to give best to Radstrom at the end of the day too, sixth the reward. Possum held on to the top six all day, and was looking forward to holding onto or improving on this on day three. Radstrom and Gallagher continued to show the promise of the Focus by holding on to fourth at the end of the second day, and they were trying hard, as they showed when they ran wide at a spectator point at the end of SS19, which had a lot of loose stuff on the outside, and the spectators enjoyed a mud and rock shower, which was greeted by loud cheering! Great stuff!