Rally report by Shane O' Donoghue
The 1999 Network Q Rally of Great Britain (what a mouthful!) began as usual with the spectator-biased, side-by-side section held in Silverstone. Day one rarely contributes significantly to the result of the rally, but always draws the crowds. Who can resist the lure of the likes of Colin McRae and Richard Burns fighting head-to-head, side-by-side in some of the best racing there is. Other venues were just as thronged with fans.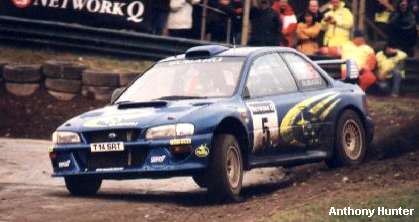 There is very little difference in power and torque between the top contenders. The speed differential is a combination of different chassis/gearbox settings and of course the driver. Arguably, the driver is more important in World Rally than in Formula One. I'm sure someone will disagree though..... Anyway, this was borne out by the running order after day one. The favourite, Richard Burns was only in fourth place, with his teammate, Juha Kankkunen leading the pack, his smooth style rewarded in the quick first seven stages. However, only 8 seconds separated the Subarus. With two days of hard, muddy forest rallying to go, this was not taken as an indication of things to come.
As predicted, Richard Burns took the horses by the reigns on day two. The 300 or so horses in question were powering the very impressive Subaru Impreza WRC. Subaru have had an unusual year, with two 1-2s and points in every rally except the Safari, yet not matching Toyota for consistency and hence losing out in the constructors' championship. Burns set fastest stage times in the first three of the second day, with Kankkunen close behind. The surprise of the rally may well have been the Peugeots of Francois Delecour and Gronholm. The latter pulled out fastest time on SS11. Burns was not perturbed though. It seemed as if each of the top drivers had a go at the Briton though, with Sainz, Makinen and McRae all setting top three stage times throughout the day. The Subarus had a significant edge though.