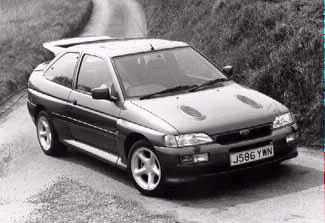 Photograph provided by Jon Whitton - www.turbocharger.co.uk
Now I don't really like Fords and as the Escort has contributed greatly to the stature of Ford today I am not their greatest fan, but there is one piece of Ford engineering that I... well... I actually like! Those of you who read the Car of the Week regularly might know that I am a great fan of rally derived cars and the Ford Escort RS Cosworth is no exception to my rule.

This radical Ford was introduced in June of 1992. The intended build numbers weren't to exceed 2,500 units, meeting the homologation rules imposed on world rallying. The ingredients: a 2.0-litre, 4 pot, 16 valve, turbocharged engine developing over 200 horses channelled to both axles, em…. Where have we seen this combination before? Oh yes, and a great big rear wing which should now indicate what I am talking about.

They met one or two parts from the normal Escort like doors, sills, roof panel, etc. that sort of thing. But apart from that this super-Escort was be treated to a wide variety of specially pressed body parts which endow it with a look alluding to a couple of years on steroids and work-outs in the gym. Ford claimed that some 60 % of the car is unique to it. Being a sports model Recaros were standard. There was a leather option but only for £1,100 extra and you had to have the luxury model in the first place. Leather rimmed steering wheel and clocks out of an Aston Vantage were included as well. Jackie Stewart was heavily involved in the development of the steering and suspension and this area of the car has been highly praised in the past.

Rest in peace Escort Cosworth - long live the Focus Cosworth!!!