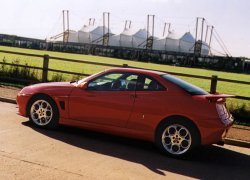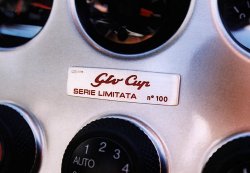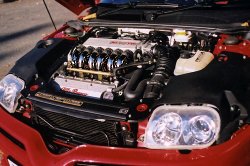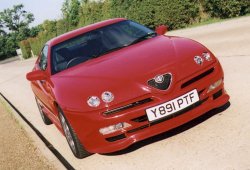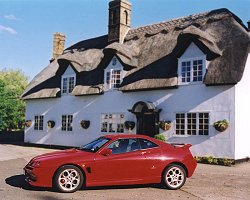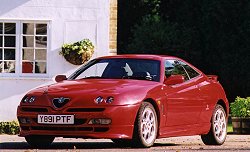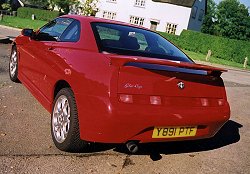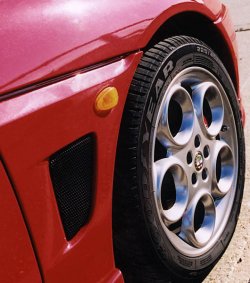 Road Test - 2001 Alfa Romeo GTV Cup
Story by Shane O' Donoghue & Adam Jefferson, pictures by Kelvin Fagan - October 2001.
The Car Enthusiast took delivery of the very red ('Alfa Red' to be exact) Alfa Romeo GTV Cup at the beginning of October for a week of Italian sports car driving. On first acquaintance the Cup special edition stands out from the standard V6 GTV by the addition of a unique body kit. This includes a large rear wing, a ground-hugging front spoiler, very stylish wheel arch side panels, side skirts and dark grey 17 inch alloy wheels. It does turn heads, even though this design has been on sale in the UK since 1996. Then again, who wouldn't look at a bright red sports car - even cynical Londoners can't help it.

Thankfully, the sporty theme is carried through to the interior. Yes, it is a little cramped, but that adds to the sports car feel, though visibility out the back window is laughable. For an average sized driver, there is no problem with getting comfortable behind the leather wheel (including rake and a comforting air bag), and even our largest tester (6 foot 2) did manage to get very comfortable, though at the limit of the seat adjustment. So much for rear passengers! The dash design is still very pleasing to the eye (complemented with a limited edition plaque), and most instruments a joy to use (the exception is the nasty column stalks). The GTV Cup also features extra leather panels to go with the lovely Alfa Romeo sports seats.

It is soon clear that the GTV Cup's performance as a whole centres around the exquisite 3.0 V6 engine. This is one of those cars you rarely use the radio in. When entering a tunnel, it becomes habit to lower the windows, drop a gear (there are six after all), and let rip. Yet, along with an aggressive bark at high revs, the 218bhp V6 is quite happy to waft the unsuspecting occupants along the motorway with not so much as a hint of wind noise to keep them company. There is excess wind noise at high speed however… More modern coupes do manage to isolate the cabin from this a bit better.

Luckily, the Alfa applies the same level of isolation between driver and road! The steering is very direct, and full of feel, though has an appalling turning circle. This is of course soon forgotten on a quick run, during which time the steering feels almost go-kart like. The chassis also manages to convey accurate messages to the driver. Which is just as well, as the limits are very high, on dry-road driving in any case. Shod with Goodyear F1 rubber (one of our favourite road tyres), the GTV Cup encourages the driver to push further and further into and out of bends. When the limits are being approached on tight corners, the rear end shifts around slightly to help turn the front in more. The next step is a gradual, controlled four-wheel slide! This is all fantastically controllable and at speeds that should not be attempted on the public road. Still, it is nice to know what would happen if you misjudge your corner entry speed.

The ABS-equipped disc brake system works well when moving quickly on well-known roads, but the pedal on our particular car was less than confidence inspiring when asked to stop suddenly. I suspect that something was actually wrong with the system rather than this being the norm. This theory was backed up by a slight squeal when coming to a halt. You must admire the bright red 'Alfa Romeo' calipers though - Brembo four piston no less, with floating rear calipers.

As mentioned, this car is not just about admiring. It should be about driving, and drive it we did. The rear is tied down and held flat by the use of a neat multi-link axle set-up, while the front has regular MacPherson struts with lower wishbones and an anti-roll bar. The GTV remains flat at all times, no matter how hard you push. Allied to this level of ability is that engine - the heart of the car. Not only does it sound good, it does, in no uncertain terms, go like stink. The 218bhp (at 6300 rpm) are coupled to just under 200 lb.ft of torque (at 5000 rpm) to give you the impression that you are sitting behind a turbine of some description. There is 160 lb.ft available at only 1500 rpm and a whopping 180 lb.ft at 4000 rpm so watch out for wheel spin! In the wet, this car is not such fun to push, with terminal understeer being the order of the day, even with those sticky tyres. For a front-wheel drive car though, it copes very well with the level of power and torque on tap.

We are certainly looking forward to a new GTV - it will have to be special to beat this though. Then again, the next evolution of this V6 engine is a 250bhp 3.2-litre version. We hope to preview it in the 156 GTA in the near future. Something tells me to look forward to that week.

Handing a sports car back to its owner is never fun and this was certainly no exception. The Alfa Romeo GTV Cup is a capable and beautiful interpretation of the Italian sports coupe. It thrills the senses, and yet is just as good on a long motorway cruise. Perhaps more importantly is that it remains an object of desire for its owner.
---
Relevant links:
Alfa Romeo UK
---