Daewoo is looking to the future at this year's London Motor Show, with the European debut of the company's UK-designed concept car, the Mirae (pronounced Mi-Ray). It is designed to combine the driving excitement of a sportscar with the practicality of an MPV. The Renault Avantime is a similar concept, but better executed and that car may well go into production in the near future. The Mirae looks far from ready, and it is known that a conventional Daewoo MPV, called the Tacuma will be available soon. Still, concepts are as interesting as real cars!
A test bed for tomorrow's technologies, Mirae - it means 'future' in Korean - is environmentally aware, yet has all the credentials expected of a top-line sports car.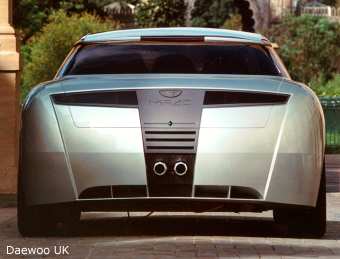 Daewoo has identified a need for a different kind of car and Mirae creates a new market segment: the VSC (Versatile Sports Car). Hmm. What do Renault call it? Practical cars have recently evolved to embrace higher performance, but the performance car had yet to evolve to offer practicality, so Mirae was designed to provide ample room for two adults, all their skiing or surfboarding gear and enough luggage for a two week holiday. Alternatively, seating can be reconfigured to take a young family of five, meaning that part-exchanging the sportscar for an estate with the advent of a new baby could become a thing of the past. Praise the Lord....
In addition, Daewoo will be showing its full range of passenger cars: Matiz, Lanos, new Nubira, Leganza, and four-wheel drive Korando and Musso. All-inclusive Daewoo prices start at £6440 and all cars come with high equipment levels, three years' free servicing (including parts and labour), a three-year/60,000-mile warranty and three years' AA cover.
The Car Enthusiast will be at the London Motor Show and a full report will follow in October.