(Chrysler UK press release - 14 September 1999)

Two weeks ago we previewed DaimlerChrysler's concept to be shown at Frankfurt this week. Official details an pictures are now available following the car's revealing at the show this week.
With its clean, yet refined and elegant 'one box' profile, Java's 'Passenger Priority Design' makes maximum use of its exterior dimensions. Java's interior package is actually comparable to that of the Chrysler PT Cruiser, yet is 50 centimetres shorter at only 3.77 metres long.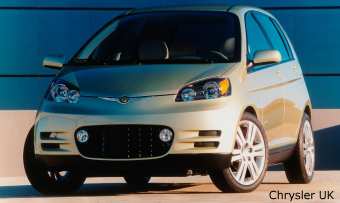 "Taking cues from DaimlerChrysler's signature MPV and sport-utility vehicle design, Java moves cab-forward design to the next level," said Tom Gale, Executive Vice President Chrysler Product Development, Design and Passenger Car Operations. This show car features what we call 'Passenger Priority Design' with tall architecture and panoramic seating for drivers and passengers to give them more of an in-control feeling compared to other small cars. In fact, the rear passengers are sitting higher than the front passengers, creating an automotive form of theatre seating."
Additional interior space was achieved by moving the windscreen forward. The Java's interior is practical and flexible yet decidedly upscale and comfortable. Said Gale: "This being the first time we created a distinct Chrysler-branded small concept car for Europe, we had to make sure that Java conveys a sense of solidity and looks and feels like a Chrysler. Java signifies the Chrysler brand's commitment to the compact segment in Europe. Although the vehicle is a pure design study with no production plans, it does convey a strong corporate message that DaimlerChrysler is serious about growing its market share in that segment. Java shows off design cues that could make it into a future Chrysler car."