BMW and The World Is Not Enough
The most recent cooperative project for the latest James Bond movie, The World Is Not Enough, which will have its German premier in Berlin on November 24th and be released throughout Germany on December 9, 1999, began in January 1998. At that time, BMW pointed out to MGM and EON that a design study that at the time was still referred to as the Z07, was to be launched onto the market as a sports car. The study had already been shown at the Tokyo Motor Show.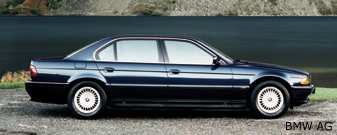 When the preparations for the latest action adventure began in September, MGM an EON reported its interests and had a look at the prototype, which now wore the designation Z8. The appearance and performance turned out to be of interest, so the partners again agreed upon a special deployment. Three handmade prototypes with silver metallic paint and black leather interior trim left the works, and spent 1999 in front of the camera in Baku on the Caspian Sea, in England, and in the Pinewood Studios in London. They, too, were equipped with special options: The car:
can be operated by a remote control,
has a hidden rocket-firing station in the car's side vents and uses the windshield to display driver information.
These noble vehicles will also be available for purchase - although without the specially made equipment - beginning in mid 2000.
As was already the case with GoldenEye and Tomorrow Never Dies, The World Is Not Enough is also a cross promotion project based on cooperation between BMW, MGM, and EON Productions Ltd. The film will show the BMW vehicle, and BMW will advertise the film in a cross promotional deal. This is accomplished worldwide with TV commercials, print ads, and displays in dealer showrooms. It will also be possible to see the connection between the film and BMW at trade shows and exhibitions, the last of which will be the IAA in Frankfurt, Germany.
Thus, for the third time in a Bond film, BMW has produced a unique vehicle which at the time of the release of the movie is not available for purchase on the market.