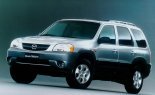 [Car Enthusiast comment]



Yet another massive off-roader on the over-crowded streets of the world! As if the Ford empire did not produce enough of these beasts...

The Mazda Tribute reason for being is to capture that portion of the market that believe that Japanese SUVs are best. Maybe they are, but this is more American than Japanese....

The Tribute looks alright in an off-road way, but is unlikely to outshine the new Mitsubishi Shogun, being shown in Europe for the first time on the other side of the Geneva Motor Show.



Story by Mazda: 11th February 2000
RUGGED GOOD LOOKS WILL MAKE MAZDA TRIBUTE GENEVA STAR
Making its European debut at this month's Geneva Motor Show, the Mazda Tribute combines rugged good looks and performance with urban chic and practicality.
Designed for urban style as much as off-roading, the Mazda Tribute is fit for both rocky, winding roads as well as all the demands of shopping and cruising.
Tribute performs the neat trick of looking superb but offering practical accommodation too. For example the Mazda Tribute's class leading loadspace stores two full size mountain bikes plus kit by simply folding the rear seat.
Along with distinctive Mazda styling inside and out, the Tribute offers an automatic four-wheel-drive system to ensure stability and control whether on- or off-road. And there is a choice of two engines: a smooth 3.0-litre V6 or a 2.0-litre in-line four-cylinder engine will be available for the UK market.
"Mazda Tribute is another stylish example of our commitment to the UK driver," says Mazda UK managing director Tim Tozer. "It will hit British roads later this year."
The Mazda Tribute will be sold worldwide and is based on the ACTIVEHICLE CONCEPT car, which first appeared at the Tokyo Motor Show last year.